In Business Central, Personalize and Design are two different features that allow you to customize the user interface to suit your preferences and requirements.
Personalize is a feature that allows you to make quick and easy changes to the user interface. This includes customizing the layout of pages, adding, or removing fields, and setting default values. Personalize is intended for individual users to make changes to their own interface, and these changes are not visible to other users.
In Personalize, at the Personalize level user can change the Position of fields by Drag and Drop.
Example: This how the Personalization looks, In example I have taken the Customer Card.
Design, on the other hand, is a more advanced feature that allows you to make more extensive changes to the user interface. With Design, you can create new pages, modify existing pages, and create custom workflows. Design is intended for power users or administrators who have more experience with customizing the interface.
In design after adding fields or after change the position of fields, save this extension and you have to Publish through Extension management, and this designing is available to all the users of Environment.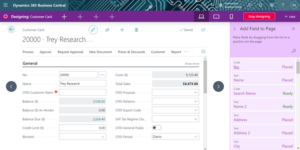 In summary, Personalize is a quick and easy way to make simple changes to the interface for individual users, while Design is a more advanced feature that allows for extensive customization of the interface by power users or administrators.
Pooja Zinjurke
Technical Consultant – D365 BC
Addend Analytics