Microsoft Dynamics 365 Business Central is an enterprise resource planning system provided by Microsoft for small and mid-sized organizations. It is designed to help businesses manage their Finance, Sales, Services, and many more.
While working in this Business management system, there are times when we might want to switch between different companies or environments, we are working in. And for that we have an option available at the top right side named as "Settings" on the home page.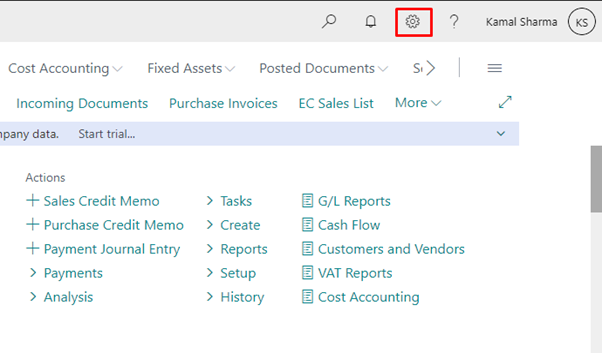 Once we click there, a window will pop up, from where we can select "My Settings" option.
As we click on "My Settings" option another window will open up, where an option named as "Company" will be available through which we can select the required company name.
If we want to switch current company with some another one then we can click on the ellipses option.

When we have click on the ellipses, another window will appear which has the list of companies and from where we can choose the required company as per the choice. In this way we can switch between different Environments in Business Central as per the requirement.
I hope this will help you in solving your purpose, to accomplish your goals using business central.
All the Best!
Rajeshwari Sharma
Data Analyst
Addend Analytics