Solver includes a connector to Dynamics 365 Business Central. Whether hosted by Microsoft or installed locally, users may use the Solver D365 BC Connector to load data into Solver Cloud. This allows for an organization with an active D365 BC account, to enable the OData objects and import their D365 BC data into Solver Cloud.
The pre-configuration  requirements for this integration are:
A D365 BC User with access to relevant data.
Create a web service access key.
Publisher D365 OData End Points.
We are discussing here how to configure these requirements.
Solver D365 BC Connector requires a Service Account User or a regular user who has access to OData.
Steps to create Web Service Access Key
Log in D365 BC
In the search bar, type: users and click the search results. This will direct you to a page with all users added to the application.
From the Users list, click the username and select Edit from the toolbar.
Scroll down the list to find Web Service Access.
If a web service access key has been created, it will appear here. If not, click the right arrow to generate a web service access key.
6. Copy the Web Service Access Key to a text editor.
To expose OData Objects
In the search bar, type: Web Services and click the result.
Copy the OData URL of a published data to a text editor file.
After configuring all requirements, log in to Solver Cloud
Log In to Solver
Navigate to Data Warehouse > Data > Integration > Add new to open the Marketplace. A list of available integrations appears. (If you have purchased the Dynamics 365 Business Central connector, a blue checkmark will appear in the upper-right corner of the tile.)
Select the connector and click Create.

Enter your log in information.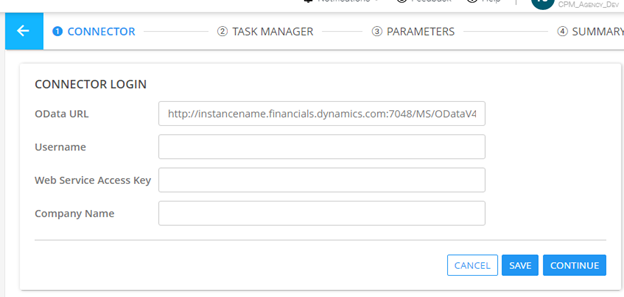 Web Service Access Key and OData URL is already generated.
Username : Username of user created
Company Name : this is the name of the company for which data should be brought in. This is a case sensitive field.
Praisy Joy
Data Analyst
Addend Analytics