Microsoft Teams is one of the most versatile and powerful collaboration platforms within the Office 365 suite that acts as a central workplace for conversations, document sharing, collaborative teamwork and, video chats all designed to make the workflow smooth and efficient. Microsoft has released the new feature of integrating Microsoft Power BI reports to Microsoft Teams. Now, companies can share the BI content with co-worker through Teams to make better data centric decisions. In this blog, we will see how you can access Power BI reports from Microsoft Teams.
Before diving into how to do? let's see the prerequisites, to use this feature.
Power BI Pro License
Enable Power BI App from Microsoft Teams marketplace
Permission to access the report/workspace
Steps to embed Power BI report to Microsoft Teams:
Step 1- Go to Teams channel, where you want to embed the report & click on the plus sign.
Now, you will see Team's marketplace.
Step 2- Select Power BI App from the marketplace.
Step 3- Select the report you want to embed from the workspace & give it a name. I named it as "Sales Performance".
Now, click on "Save". You will see the Power BI report embedded on your Team's channel.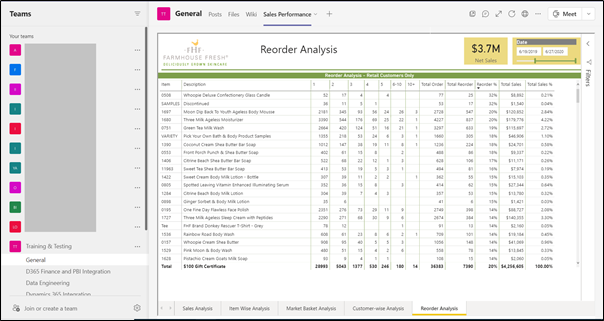 You can leverage all the essential features of Power BI services here on Teams. This is all about embedding the Power BI reports on Teams. I hope you will find this blog useful.
Gaurav Lakhotia
Data Analyst
Addend Analytics