Time tracking is a critical business requirement for many businesses like consulting, marketing agencies, and legal advisories. With the advent of SaaS applications, there are many options available in the market. Harvest is a leading SaaS solution which not only helps in time tracking but goes much beyond to address other business needs like expense tracking, invoicing, and forecasting.
Due to ease of use, and many useful functionalities, more than 50,000 business are using Harvest.
Harvest also provides basic dashboards for analytics but users may have many questions which are not answered by these dashboards e.g.
What is my company's performance against budget?
By how much we are doing better or worse than last year?
What is performance of each consultant against targets?
What % of time is not invoiced by agency as well as by consultant?
What is the margin % by customers?
But not to worry, all these questions, and many more, can be answered by Business Intelligence tools like Microsoft Power BI.
Power BI is a cloud based data analytics platform which can connect with a large number of data sources and can provide unified view of business in hours.
With strong data transformation and visualization capability, we can create beautiful dashboards which are interactive and full of insights. It also has inbuilt AI and Natural Language Querying capabilities.
Power BI has 140+ free native connectors to connect to different on-prem or cloud applications.
How can you utilize full potential of your Harvest data?
Here is four step process for this:
Create a Data Warehouse for your Harvest and budget data
Setup an ETL pipeline to upload Harvest and budget data in DWH
Connect Power BI with DWH
Create insightful reports to get unified view of your business
Along with offering other advantages, a DWH solves a major challenge here. Power BI does not have a native connector for Harvest. We can use a managed ETL tool like Stitch Data which has a connector for Harvest.
Using ETL tool, we can upload data in a cloud data warehouse like Azure Synapse, Azure SQL DB, Google BigQuery or AWS Redshift.
Power BI can be connected to any of these data warehouse as it has native connectors for all these data warehouses.
And the greatest thing about this approach is that all these steps can be completed within hours instead of weeks. You can then keep on adding more reports based on your business needs.
Here is an example of architecture we built for one of our clients in Switzerland.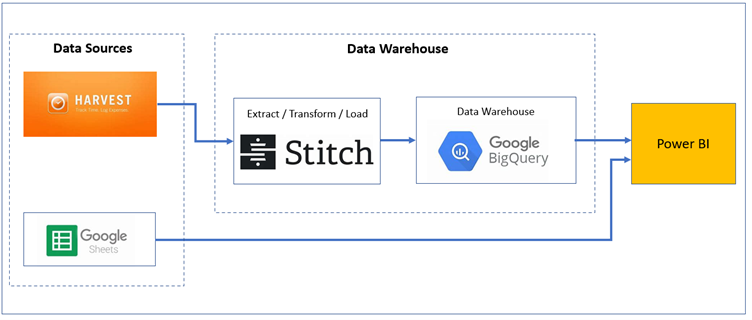 Contact us now at kamal.sharma@addendanalytics.com if you want to use full potential of your data in Harvest and improve your profitability, engage your employees, and grow your business.
Kamal Sharma
CEO
Addend Analytics